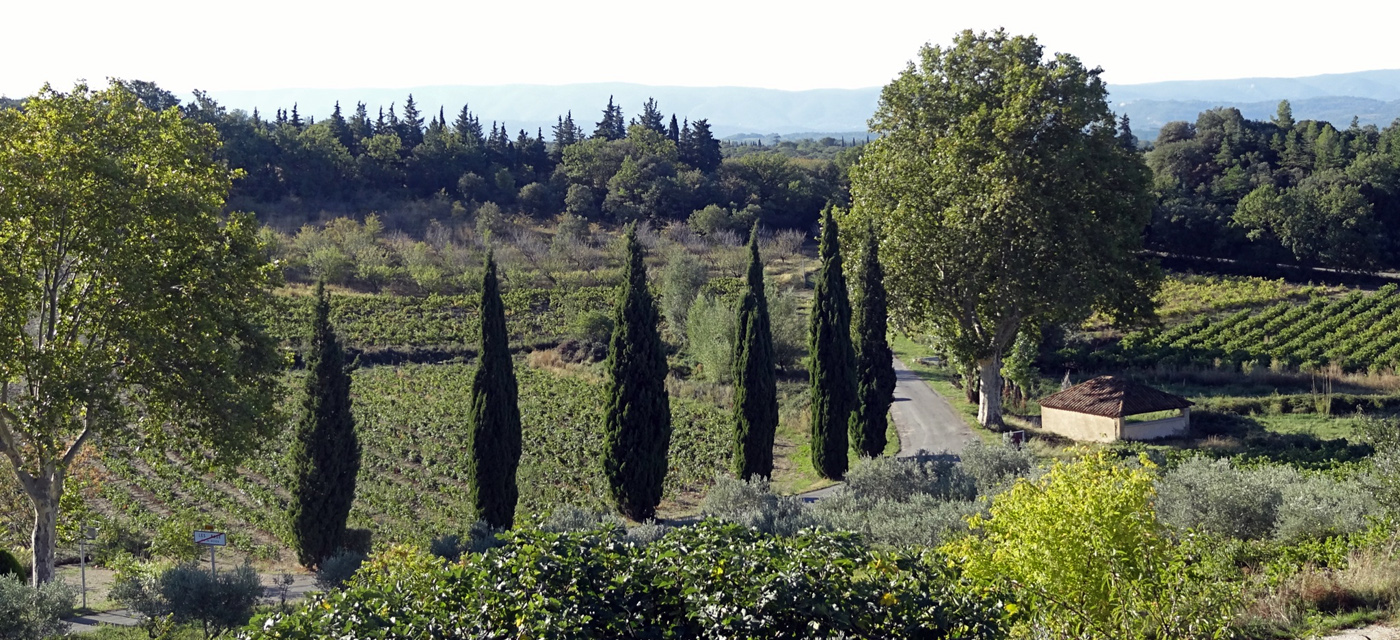 Local area
Situated on the edge of the hamlet of Les Baux at the foot of Mont Ventoux just 3km from the lively village of Bédoin with its numerous cafés and restaurants, bakers and weekly market, Gîte Les Enfantines and Oustau du Ventoux are in an ideal spot surrounded by cherry orchards, vineyards and almond trees for walking and cycling holidays through the picturesque hamlets and villages of the Vaucluse area of Provence.
Les Baux
Mont Ventoux, le géant de Provence, dominates the landscape. Total calm reigns in Les Baux yet it is only 5 minutes by car from the centre of Bédoin. The hamlet is a haven of tranquility with a few dozen houses and a church which still opens for service the fifth Sunday of the month (work that one out!) It contains one of the last paintings painted onto wood by Simon de Challons. La Cigale, a bar and pizzeria/restaurant with terrace overlooking the vineyards opens every night in the summer months (weekends only from May) and hosts entertainment for the annual village fête over a weekend in July.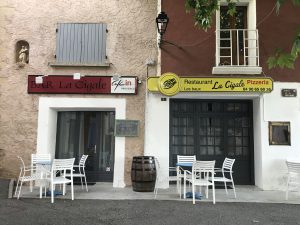 In August there is a vide-grenier which winds its way through the small streets and provides a great chance to grab a bargain. A 5-10 minute walk takes you to the site of Les Demoiselles Coiffées, curious formations of red rock set amongst the trees, especially wonderful around sunset. There is a wine named after them which is very quaffable!

Sainte Colombe
One minute by car or a lovely 15 minute walk across the vineyards takes you to Sainte Colombe where there is an artisan bakery with a very old stone oven – the perfect place to get your daily bread. Aside croissants, baguettes and fougasse, they bake all sorts of delicious breads, many with grains such as quinoa and spelt. There are also a couple of good restaurants in the village with a nice bar so great for eating out locally and not having to drive.
Bédoin
Bédoin is a lively place with all the amenities you'd expect in a village inhabited all year round with activities held in the cultural centre and library. There are tennis courts and an open air swimming pool (open July till early September). As well as the weekly Monday morning market there is a local farmer's market on Saturday evenings between May and September where you can buy the finest seasonal produce – olives, tapenades, goats cheeses, sausages, lavender honey to name but a few. These markets take place in different villages in the Comtat Venaisin area and provide a chance for locals to meet and catch up over a Pastis or a local Côtes du Ventoux wine.
Le Barroux
A lovely village set dramatically on a rock dominated by its castle, it makes for a very pleasant stroll through its cobbled streets with good views down to Carpentras and beyond. Le Barroux is known for its apricots. It boasts a good restaurant and a pretty salon de thé which serves tasty quiche and tarts. There's a nice pottery and brocante shop nearby on the Caromb route back to Bédoin.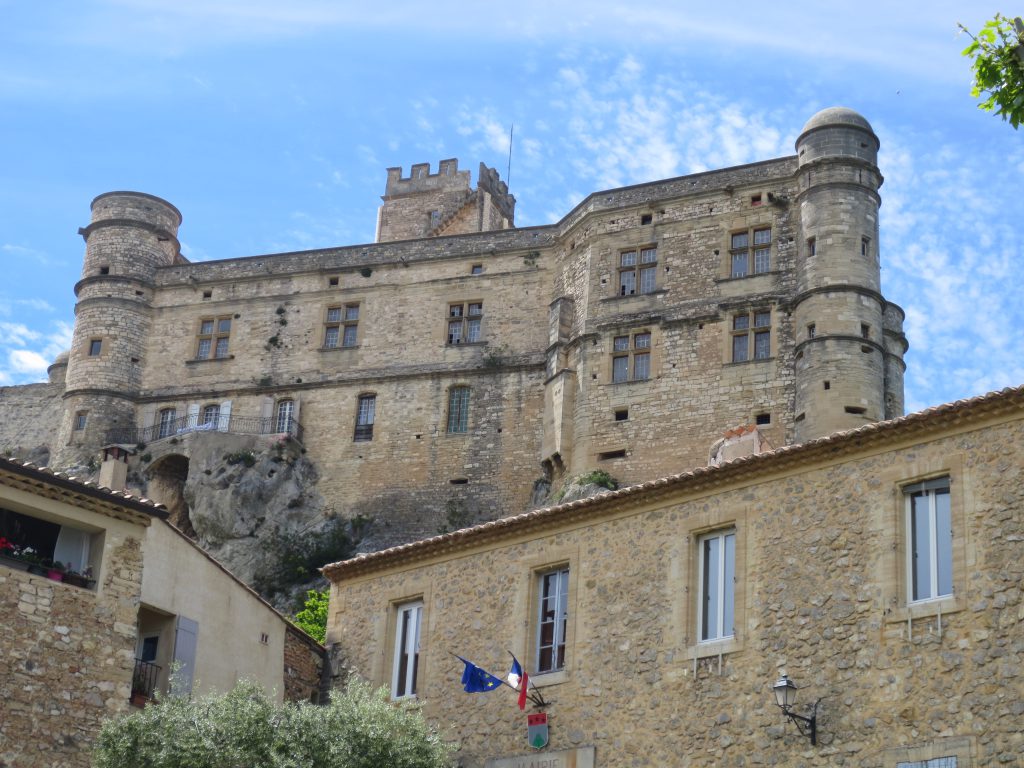 Crillon Le Brave
This pretty village is dominated by a five-star hotel but also has an art gallery, pottery, boulangerie and an imposing statue of Monsieur Crillon himself. A nice bistrot du pays offering slow food cuisine and Le Vieux Four with its pretty terrace plus an additional bar/restaurant and épicerie all make Crillon a pretty place to stroll around with views to admire over a slow lunch or apéro!
Caromb and on to Beaumes-de-Venise
It's a beautiful cycle from Oustau du Ventoux to Caromb keeping on the high road out of Crillon. Caromb is a fair-sized village with a very good restaurant Six à Table but also an especially lovely florist N'Oublie Pas les Fleurs run by a woman with a creative touch for turning old shutters into works of living art. It's a nice stop before heading on across the vineyards to reach the village of Beaumes-de Venise known for its sweet Muscat wine. There is also a Moulin d'huile where you can do a dégustation (tasting) of olive oils which is a surprisingly revealing experience – you'll never think of olive oil in the same way ever again as just like wine, olive oil has many different nuanced flavours!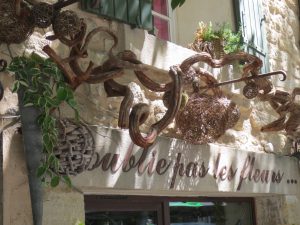 From Beaumes-de-Venise it's just a few kilometers on till you reach the villages of Vacqueyras and Gigondas and the stunning Dentelles de Montmirail. Beautiful walks for different levels of fitness and great picnic spots. And there's many a fine domaine to visit to explore the famous Côtes du Rhône wines without the hefty Chateauneuf du Pape price tag!