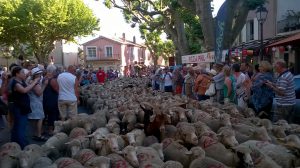 What to do
The annual Transhumance when the shepherds take their sheep to summer pastures in the Ventoux is a spectacle to behold as they pass through Bédoin – hundreds of sheep, goats and tireless sheep dogs flooding the main street followed by the Patou, the huge dogs used to protect the sheep from wolves in the Ventoux.
Walk or cycle around the Mont Ventoux area. There are lots of walking paths to explore and in the height of summer, the oak, pine and moss paths known as the Garrigue will provide much needed shade. You could even enter the annual Mont Ventoux marathon in July, a mere 21.6km to the summit, recently completed by a young 80-something in under 4 hours! And you can also venture into nature on a guided walk with a donkey from Villes-sur-Auzon. There are lots of different routes and the Bédoin tourist office has maps of a variety of walking and cycling circuits. Here's a few tasters:
From Les Baux you can easily join the start of the Combe de Curnier, a spectacular walk through forest, open paths and twisty narrow rock faces. It's about a three-hour circuit, or longer depending on how far you want to head into the Ventoux. There are some great picnic spots with plenty views to admire and total tranquility guaranteed aside the birdsong. Of course the summit is a tantalising 12km away on foot but it's not a route for the fainthearted! There are various more gentle local stroll options too which we can advise upon, not least to the site of the Demoiselles Coiffées which provides welcome shade in summer months.
A visit to the summit of Mont Ventoux is of course a must and the Fête de St Jean is well recommended if your visit coincides with 24th June – see our blog on this annual fire festival.
The Gorge de la Nesque is wonderful, but challenging for cycling, walking or even driving through – spectacular scenery! The bistrot in Monnieux above a small lake makes for an ideal lunch spot before heading back via Sault, the lavender capital of Provence.
About 6km away you can swim in the lake and picnic by the beach outside the village of Mormoiron. There is also a forest rope and swing park and plenty of walking trails up into the forest hills above the lake.
Or beyond Malaucène walk along the Toulerenc river climbing over boulders on your way – great fun for kids too and the perfect walk through the water on those hot summer days to cool down, though you're not likely to have the place to yoursellf!
Tennis courts, football stadium, basketball net in Bédoin.
Carpentras (17kms away) has a compact old town and an historical synagogue, the second oldest in Europe. In addition to the Friday and seasonal truffle markets, Carpentras hosts a weekly Sunday brocante market where some bargains can still be had.
Magnificent hilltop villages such as Venasque and Gordes and not forgetting Sault, famous for its lavender fields are within 30 minutes or so.
Vaison la Romaine makes for an interesting day trip with its amphitheatre, museum and medieval village and castle towering over the river. Continue further on to Seguret, one of Provence's prettiest villages. Return via Le Crestet and discover its sculptures hidden in the woods.
For cultural activities the towns of Orange, Avignon – site of the Popes' Palace, Arlesh – home of Van Gogh, and Nimes with its well preserved roman amphitheatre, are all within a 40-60 minute drive.
Further afield
Visit the villages perchés of the Luberon – Menerbes, Lacoste, Bonnieux. Dramatic and spectacular.
Lourmarin, where Algerian-born Albert Camus, author of L'Etranger is buried, is a lovely village to stroll around and has a good choice of restaurants. Roussillon with its stunning red and yellow ochre rock formations and nearby gorge are also worth a visit.
Aix en Provence with its Cezanne museum has much to offer. Further on to the old port of Marseille or Cassis with its famous Calanques makes for a perfect trip to the Mediterranean and the harbour front lined with restaurants – sea urchins being a well-known delicacy around these parts.