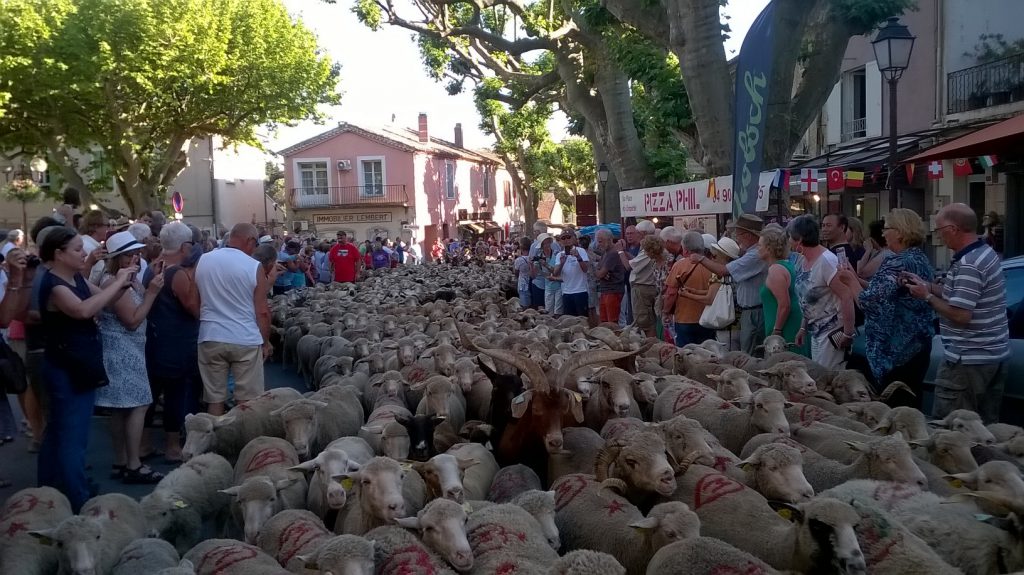 As our Scottish friends well know we are used to seeing sheep but when we were told the annual herding of the sheep to the cooler grazing grounds up Mont Ventoux (Fête de la Transhumance) on Sunday 11th June would not only pass by Bedoin but by Les Baux we had not expected the spectacle it turned out to provide! The sheep numbered over 500 and were herded through the streets and pavements of Bedoin on their 25km journey. There were young lambs and goats too and a huge cacophony of jangling bells – you could hear them long before you saw them. The collies and other herding dogs were running at full pelt, panting but seemingly loving the challenge. Although they had started out from near Crillon Le Brave around 5pm when it would be cooler the temperature was still in the low 30s but would be a lot cooler by the time they reached their destination at nightfall. Bringing up the rear were the Patou, the dog they use here for guarding the sheep. The Patou is cream coloured, has a long shaggy coat and is enormous. Its job is to protect the herd from potential danger – dogs or wolves – and I'm told they can easily bring down a wolf. The shepherds accompanying them wore red T-shirts saying 'Non au loup au Mont Ventoux' so clearly the wolf is a source of controversy. I've yet to have discussions about that with a shepherd…
People thronged the streets of Bedoin and having watched the sheep pass through we returned to Les Baux to see the troupe arrive some 2 or 3 hours later. All along the route local people had taken out their chairs and waited in anticipation for their arrival – this is a big annual event and another reminder of the extent to which the French value and cherish their traditions. Already I am losing count of the number of Fêtes there have been in the space of two months!
In my next post I'll talk about the one that's been the most spectacular of all and a wonderful insight into Provencal life, the Fête de St Jean which involves fire, bundles of wood tied up with messages, songs, sausages and wine – and the summit of Mont Ventoux!