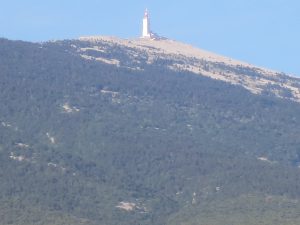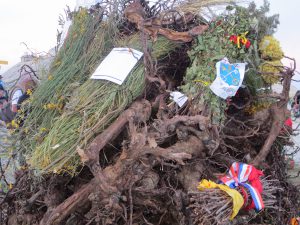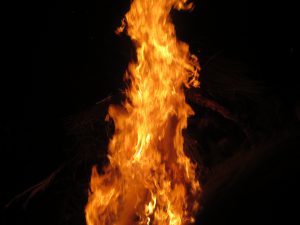 When our neighbours Cathy and Michel offered to take us to the festival of the fire of Saint-Jean on 23rd June at the top of Mont Ventoux we jumped at the chance – not only was it a chance to get to the summit as we hadn't yet managed that but also Michel would drive us: it's a long winding road to the top – as any of the sixty-thousand-plus cyclists who reached the summit from the Bedoin side of the ascent last year can testify – so we relished the prospect of not driving and just chilling and looking at the view while a local handled the wheels!
We'd been told to take warm clothes and wear proper shoes. We understood there would be a bonfire, warm wine shared and singing of old Provencal songs. Cathy said she'd pack sausages in her fancy cool bag haversack for a barbecue. So, putting on jeans and socks for the first time in weeks and carrying our jumpers as it was still boiling hot at 8.30pm we headed to our neighbours with some wine, crisps and biscuits to share for the anticipated wee picnic at the summit.
First up it transpired Cathy's cousin and husband were coming too so all six of us crammed into the Renault along with what looked like way too many coolbags for a wee barbecue! We set off up the long twisty road – all great fun for the four of us in the back who jostled for position at every bend. The temperature lowered from 25 to 14 degrees as we climbed and just as I started to think it might be really cold up the top as we spun higher and higher up towards the summit – at 1910 metres it beats Ben Nevis – we suddenly came out of the shade of the trees onto a more lunar landscape and the temperature rose again to 18 degrees. And what a view! And, OMG, what a steep way down as we swung round another corner!
We passed the memorial shrine to the British cyclist Tom Simpson who died just short of reaching the summit in 1967, a cycling legend round these parts and in whose honour a race is held every year, and parked where we could find a spot. We got the coolbags out and headed to the small chapel where already a crowd had gathered. And there it was! A huge bonfire, tough branches of wood at its core and then stacked with bunches of twigs or flowers tied together with string and handwritten messages from communities from all over the Vaucluse attached. These bunches had been blessed by the priest in Bedoin a week prior and then transported to the summit. Other people brought their own 'wishes' with them and threw them onto the fire once it was lit. As it transpired like many festivals here this was a mix of pagan and peasant traditions with a good dose of Catholicism thrown in.
Originally in medieval times the fire was lit in joy, symbolising the light of the sun and reuniting the inhabitants of a village. The tradition disappeared during World War II and it was only in 1955 that an enthusiastic climber took up the initiative to relight the fire at the summit of the Canigou. The fire is a bond between the provencal and catalonian people: The flame had been lit on the Pic du Canigou in honour of the summer solstice and then from there the fire was transported and kept all year in the Castillet de Perpignan. It is from there that it sets off on 23rd June every year on its journey to all the regions of the south. Mont Ventoux is the first to light up and it's said that once others see the light of the Ventoux they light their hilltop fires too.
Our flame arrived in Bedoin around 6pm and was then brought up by runners whom we'd whizzed by as we approached the summit. News that the flame had arrived got everyone excited. The priest spoke, the mayor of Bedoin read in Provencal followed by a French translation (see Frederic Mistral's Mireio / Mireille), pipes and bands started up and 'Amazing Grace' even made an appearance and people sang. Then after nightfall the bonfire was lit. What heat! We had to turn our backs as the flames rose higher and higher and blasted out a wave of heat across the summit of the giant Ventoux.
There is something very intimate about a gathering around a fire: time to be still and reflect, chance encounters and fireside chats. A huge sense of communal spirit seemed to engulf everyone as the fire died down and braziers were laid out and men with shovels appeared out of the smoke to lift huge burning orange embers into them. Then the coolbags came into their own. It was midnight as folk  got out their sausages, chops or finer cuts of meat and set to barbecuing the lot, sharing the fire. It was no wee picnic after all – we should have realised that as when it comes to the French and their food there are no holds barred! Cathy produced paté, watermelon, baguette and all sorts out her bag. While they ate Merguez sausages I had some camembert – the tradition yet to embrace fully vegetarians! All sloshed down with some local vino. It was great fun and totally memorable, not least the swerving drive home at 1.30am, many French as impatient as ever not to waste a second more in the car than needs be. Michel took it easy and it gave us a magical chance to see a deer leap out of the forest across the road in front of us as we wound our way back down the mountain.
A heart-warming lovely evening and we remain indebted to our lovely neighbours for inviting us and letting us experience another wee insight into life in this area of Provence, so steeped in tradition and rituals it would surely take a lifetime to understand fully. If you get a chance to go see you there 23rd June next year!